Advanced Analytics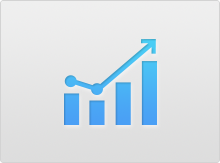 What is Advanced/Predictive Analytics?
Advanced analytics uses statistical reasoning and machine intelligence to analyze data at a microanalytic level. Such technology facilitates the refinement of decision-making. A variety of analytic models are used to detect the probability that events will or will not occur. The nature of the business decisions or Key Performance Indicators under consideration will determine the algorithm to employ. The outcome of will enable executives to refine decision making and identify areas of risk 6-9 months in advance. Outcomes will also enable the avoidance of or mitigation of risk as interventions are implemented.
Has this technology been used in business?
For many years, industries outside of healthcare (e.g., manufacturing, telecommunications, and finance) have harnessed the power of advanced analytics to improve the overall performance of their operations. It is only within the past decade that there has been wider acceptance of this technology in the healthcare arena.
What are the areas of application for advanced/predictive analytics in healthcare?
Advanced/ predictive analytics has many areas of application in healthcare. Proven success has been achieved in both the business and clinical segments of the Industry. Advanced/ predictive analytics has impacted financial performance, efficiencies in operation and clinical outcomes. Additional benefits include reduced cost and improved patient satisfaction.
Why has healthcare been slow to embrace advanced/ predictive analytics?
There are several theories as to why the healthcare industry has been slow to adopt this advancement. Some organizations are not "culturally" ready to embrace the power of this unique technology, or do not have good data. For others, cost for this specialized technology is prohibitive when seeking to develop internal capabilities. Organizations that have the resources to employ the use of advanced analytics, have a "first mover" advantage in the industry. As such, the notion of applying advanced technologies to improving outcomes, reducing costs, and achieving gains in patient satisfaction, may seem to be an option for only those well-endowed organizations. Dr. MoneyballTM however, delivers an affordable performance improvement program that will result in actionable change!